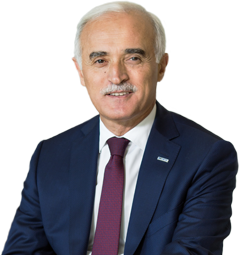 I have taken over the DEİK's President Office from Ömer Cihad Vardan as of September 22nd, 2017, an institution I had been serving as the Board Member for 5 years and as the Deputy Board President for 3 years.
On this occasion, first and foremost, I would like to express my gratitude and extent my deepest appreciation to Mr. Nihat Zeybekci, Turkish Minister of Economy and to Mr. Binali Yıldırım, Prime Minister of Türkiye; and to President of the Republic of Türkiye, Mr. Recep Tayyip Erdoğan for lending countenance to this decision.
Established by the late President Turgut Özal, DEİK fulfills an important mission in Türkiye's foreign economic relations with the world. Using this opportunity, I also want to extend my sincerest gratitude to those, Presidents, Prime Ministers and Ministers; as well as to all Presidents, Board Members, Business Councils' Presidents, Members of DEİK and her professional staff for their contributions.
A special thanks goes to Mr. Ömer Cihad Vardan, former President of DEİK who successfully ran the Presidency in the last three years. I would like to thank to him for all his endeavours he accomplished as a Member of Board of Auditors, Member of Board of Directors; also as the Board President; and would like to wish him success in his professional life.
Together with our Board and Business Councils, under the coordination of our Ministry of Trade, in full harmony with our country's objectives, our objective will be, as it was in the past, to increase and enhance welfare and prosperity of our nation and our people, making our country an effective and efficient player in the global arena that will serve to leave a more fair and liveable world for the next generations.
I also frankly thank to all friends and elders delivering their sincerest greetings and prayers on my recent appointment.
Respectfully yours,
Nail OLPAK