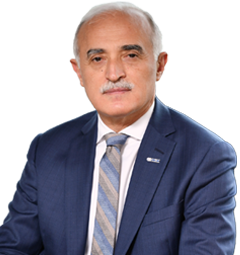 Dear Member,
The year 2023 marks a special milestone in the history for the Republic of Türkiye, as it celebrates its 100th anniversary and we experience the excitement of entering into its new century with an even stronger vision.
A century ago, when our Republic was just beginning its journey, our export was $50 million. Since the 1980s, when our economy embraced international trade, our exports have experienced a remarkable surge, surpassing the impressive milestone of $250 billion today. While achieving this, we also developed our capacity in the industry and became a country that sells more than 4000 products to more than 200 countries.
The investments made in energy, defense industry, health, transportation and many other fields in the last 20 years have provided us with a robust foundation for progress and prosperity. Our goal is to create the Türkiye of the future even stronger than today with this potential.
In recent years, we have witnessed significant transformations that have affected the entire world: the increasing importance of supply chains due to the Covid-19 pandemic, the risks of relying on a single source, the accelerating digital transformation, the green transformation with the European Green Deal, the growing significance of energy and food supply with the Russia-Ukraine war. These have emerged as the most prominent indicators of a changing world. We have also restructured our business processes to align with all of these developments and transformations.
In the upcoming period, we will be confronted with global and geo-economic developments. We are aware of various factors that can pose a threat to the global economy, such as climate change, geopolitical tensions, regional conflicts, global trade wars, and cyber security. It wouldn't be wrong to evaluate that these will bring additional risks to the current challenges of the world, but it should also be noted that new opportunities will arise. We should evaluate these global opportunities in the best possible way. On the other hand, we have experienced a very painful ordeal referred to as the "Disaster of the Century." On February 6th Kahramanmaraş-centered earthquakes caused more than 50 K casualties. 11 provinces were ruined. Our continued growth despite the devastating impact of this disaster shows Türkiye's strength against economic vulnerabilities.
As DEİK, we draw our strength from our 97 founding and corporate members and our volunteer members. We play an active role in helping our businesses, which we support to expand abroad, adapt to the transformations required by the new global order.
As DEİK, continuing our activities for 38 years with the understanding of "Business Diplomacy," we will uphold our vision of being the gateway of our economy to the world with the same enthusiasm.
Under the leadership of our President and the coordination of our Ministry of Trade, we will continue to be the biggest supporter of our business community.
Best regards,
Nail OLPAK
President of DEİK