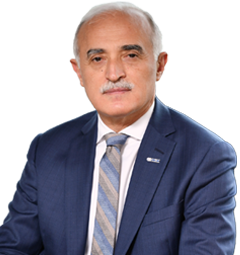 Dear Members,
After the Kahramanmaraş-centered earthquake disaster, I made a trip to Elbistan, Maraş and Adıyaman through Kayseri to determine the needs there and to share a little bit of the pain of our citizens affected by the earthquake.
In addition to other needs, I personally experienced that it is not possible for our citizens affected by the earthquake in the Elbistan region, the epicentre of the second earthquake, to warm up in the tents while I was staying there, in an environment of -25 degrees at night and -15 degrees during the day.
In this context, we started to take our steps in coordination by establishing an Earthquake Assistance Coordination Committee within DEİK.
And we have decided to establish the 'DEİK Container City' with 1000 containers in the first stage for medium-term support and we are working rapidly.
In addition, immediately after the earthquake, we opened an account under the coordination of our Committee, which was established for the foreign stakeholders of our DEİK Business Councils, in order to be able to carry out the foreign assistance requests sent to you and us in accordance with the spirit of Business Diplomacy.
In this context, our request from our esteemed members; your support to both our container campaign through our Business Councils, and to support your friends in Türkiye to contribute to our social solidarity in confidence by delivering the necessary information to your foreign business partners when you receive assistance offers from abroad.
The DEİK Secretariat and our committees will carry out the procurement, transportation, construction and coordination of the containers and their materials.
All invoices related to the number of containers you will undertake will be sent to your companies and you will make the payment and record them. Thus, it will be possible to have both VAT deduction and expense related to your payments.
We would like to thank everyone who contributed with their support. We wish God's mercy on our citizens who lost their lives, and a speedy recovery to our wounded.
We will heal our wounds together.
If you have any questions, you can contact our Coordinators and Directors, Deputy Secretary General and our Secretary General, and me.
Sincerely Yours,

Nail OLPAK
President of DEİK