PRESS RELEASE
As Turkish businesspeople, we believe that it is of utmost importance to continue with our commercial and economic relations smoothly with Saudi Arabia.
We believe that the growth and development of Turkish and Saudi economies, which complement one another, rely on continuing trade between our countries on a win-win basis. Because, we know that trade brings wealth and prosperity to people.
Despite all these, we regret to see that Saudi Arabia is taking an increasingly negative stance against Turkish companies. We learn from the complaints reported by Turkish companies, which are also taken up by the press, that Saudi authorities state that no imports would be made from Turkey. Furthermore, it is stated that many Saudi companies which supply goods from Turkish companies are forced to sign a letter of commitment not to import goods from Turkey.
And recently, global logistics companies have been warning their customers about the obstacles that Turkish companies face in Saudi Arabia, that they should be prepared for long waiting times at Saudi customs for goods arriving from Turkey and that imports from Turkey might even be blocked. Thus, this issue has gone beyond bilateral economic relations and become a problem for global supply chains.
Finally, it has been a massive disappointment for the businesspeople of both countries that the President of the Council of Saudi Chambers Mr. Ajlan bin Abdul Aziz Al-Ajlan tweeted on October 3, 2020 that it is the duty of all Saudi nationals to boycott Turkish products.
All these negative developments we have pointed out above, are also valid for Turkish contracting companies that have contributed to the Saudi Arabian economy for years and have successfully completed hundreds of important projects in the country so far. Our contractors have not been invited to the important tenders for sometime and they have not been given any new big projects.
We deeply regret the discriminatory treatment that our companies face in Saudi Arabia.
Any official or unofficial initiative to block trade between the two countries will have negative repercussions on our trade relations and be detrimental to economies and people of both countries.
Decreasing supply from Turkey will lower the business volume and revenues of Saudi companies and will negatively affect the purchasing power of Saudi nationals who prefer Turkish products for their quality and price with confidence.
In this context, we, the Turkish businesspeople, expect Saudi authorities to take concrete initiatives to resolve the problems in our trade and economic relations.
We are confident that we can surmount any kind of problem with constructive dialogue and cooperation.
M. Rifat HİSARCIKLIOĞLU Bendevi PALANDÖKEN İsmail GÜLLE Nail OLPAK
TOBB President TESK President TİM President DEİK President
Simone KASLOWSKI Abdurrahman KAAN Mithat YENİGÜN Ayşem SARGIN
TÜSİAD President MÜSİAD President TMB President YASED President
TURKEY-AFRICA ECONOMY AND BUSINESS FORUM ONLINE EDITION
Turkey-Africa Economic and Business Forum (TABEF), jointly organized online for the very first time by Turkish Ministry of Trade, the African Union and Foreign Economic Relations Board of Turkey (DEiK), was opened on Thursday October 8, 2020 with the attandence of President of Turkey H.E. Recep Tayyip Erdogan, Turkish Minister of Trade H.E. Ruhsar Pekcan, Economic Affairs Commissioner of African Union Commission (AUC) H.E. Victor Harrison, President of DEiK Mr. Nail Olpak and Coordinating Chairperson of DEiK/Turkey-Africa Business Councils Ms. Berna Gozbasi.
The global, digital-first and two-day Forum will provide access to hot business topics discussed during 10 panel sessions, 43 high-level speakers, live networking among 2.500 participants from Turkey and 71 countries (46 African countries), G2B meetings and virtual exhibiting booths on October 8-9 2020.
Top 5 sectors of the participant companies are Agro-Industry, Building & Infrastructure,
Trade & Distribution, Manufacturing and Energy.
About 68.000 people watched the opening session of the Forum's livestream on social media.
H.E. Recep Tayyip Erdogan, President of the Republic of Turkey
Turkey is proud to have contributed to African countries in their fight against the novel coronavirus with Turkish-made respirators, masks and overalls, the country's president said on Thursday.
"The peoples of Africa were unfortunately left to their fate in the face of the virus while Western developed countries were engaged in mask wars," Recep Tayyip Erdogan said during the Turkey-Africa Business Forum organized by Turkey's Foreign Economic Relations Board (DEIK) via video link.
Erdogan underlined that the Turkey-Africa Health Partners Platform could facilitate comprehensive and permanent cooperation between the two sides.
"The essence of our relations with Africa is sincerity, brotherhood and solidarity," he said, adding that Turkey has never held short-term interests towards the continent.
Ankara does not approve designs to sustain the colonial practices of the past through new methods, he asserted, adding that as a country that has never partaken in colonialism, Turkey refuses to approach the continent in an arrogant or bossy way.
He underlined that Turkey did not see African countries as only markets for Turkish products, but rather sought win-win cooperation.
"We would like to win together, to succeed together, to walk together [with Africa]."
Trade Relations
Erdogan noted that trade volume with the African continent, which was $5.4 billion in 2003, reached $26.2 billion in 2019.
"We should not allow the negativities caused by the pandemic to slow down the momentum we have got in our relations," Erdogan said adding: "We have to take it [trade volume] to over $50 billion in a few years.
The total value of projects undertaken by Turkish companies across Africa has reached approximately $70 billion, he said, adding the market value of Turkish investments across the continent has exceeded $6 billion.
Underlining Turkish companies' critical role in overcoming the infrastructure and superstructure deficiencies in Africa, he stressed: "Turkish companies apply a unique model, from technology transfer to knowledge and experience sharing, from capacity investment to increase in joint ventures."
He also noted the Turkish firms have contributed to generate local employment and production in the countries where they are operating.
"Turkish investors, who meet most of their workforce needs locally, did not make the mistake of importing workers from abroad like many foreign companies.
"More than 100,000 African labourers have gained employment opportunities thanks to Turkish investors," Erdogan added.
Turkey will be among the fastest-recovering countries from the novel coronavirus pandemic, its top trade official said Thursday.
H.E. Ruhsar Pekcan, Minister of Trade of the Republic of Turkey
According to the latest OECD report, Turkey -- after China and South Korea -- will be among the least affected countries by the global economic downturn caused by the pandemic, Trade Minister Ruhsar Pekcan said during the Turkey-Africa Business Forum, organized by Turkey's Foreign Economic Relations Board (DEiK).
At the event, participants are discussing post-pandemic economic relations between Turkey and Africa, as well as several other topics such as e-commerce, agriculture and free trade agreements, she noted.
Pekcan underlined that the forum was hosting business people from 81 countries, of which over 60 of were African nations, adding that more than 50 international speakers would speak at the event.
"Turkey prioritizes the concept of win-win with Africa relations," she underlined.
Pekcan said that while Turkey defends its rights and benefits, it attaches importance to the rights of the least developed countries as well.
She recalled that Turkey's bilateral trade was up by 7%, reaching $26.2 billion last year and stranding at $18.2 billion in the first nine months of 2020 despite the virus outbreak.
Trade and investment between the two sides will expand further in the coming period, Pekcan added.
Mr. Nail Olpak, President of Foreign Economic Relations Board of Turkey (DEiK)
2063 Africa vision
Nail Olpak, chairman of the DEIK, said: "We can develop more investment and cooperation projects, including PPP [public-private partnerships], especially in areas such as health, transportation, engineering and architecture, banking, manufacturing and industry where information technologies are used.
During his speech, Olpak noted Pekcan's ongoing efforts to establish logistics centers in Africa, saying these centers are very important in terms of supply chains.
He said the 2063 vision of the African Union and its goals in manufacturing, industrialization and value-added production, which are set to transform Africa into a global power center, also shaped Turkey's economic relations with the continent.
The biggest problem, on the other hand, of the Turkish private sector in Africa is the financing of its activities, he said, adding that though Turk Eximbank provided intensive support for these operations, more support was needed.
H.E. Prof. Victor Harison, the Economic Affairs Commissioner of African Union Commission
Pandemic-hit Africa
Victor Harison, the Economic Affairs Commissioner of African Union Commission, said the COVID-19 pandemic had damaged the Africa continent deeply, with 1.5 million people infected and 36,000 dead.
Before the pandemic, Africa's GDP growth forecast for 2020 had been 3.4%. The current predictions are between minus 4.9% and minus 2.1%, Harison stated.
The inflation rate is currently over 5% in several African countries, he added.
The continent needs to raise its manufacturing exports and reduce the use of processed goods to close its fiscal gap, said Harison.
EXPECT BIG CHANGES FROM VIRUS: TURKISH BUSINESS GROUP
The coronavirus pandemic is likely to make sweeping changes to people's habits, including vacations, diets, technology, and investment, the head of the Foreign Economic Relations Board of Turkey (DEIK) said on Monday.
After the emergence of the virus in Turkey several weeks ago, the group started to hold all its meetings via telecom links, President Nail Olpak said in a video conference.
He also said that all personnel on the board currently work from their homes.
DEIK is focused on public health and maintaining the group's activities, Olpak underlined.
Turkey's ambassadors to Beijing and Seoul also took part in the video conference, sharing their observations of how China and South Korea handled the pandemic.
The virus, also known as COVID-19, has so far infected 10,827 people in Turkey and claimed 168 lives.
Worldwide, over 755,000 people have been infected and over 36,000 have died in 177 countries and territories, according to data compiled by U.S.-based Johns Hopkins University
TURKEY-SLOVENIA BUSINESS FORUM
The gradual rise in trade between Turkey and Slovenia is the most important sign of the two countries' cooperation, said Slovenia's deputy prime minister on Tuesday.
Speaking at the Turkey-Slovenia Business Forum organized by the Foreign Economic Relations Board of Turkey (DEIK) in Istanbul, Miro Cerar said the strategic cooperation between the two countries has grown since March 2011 thanks to friendly ties.
Taking advantage of common opportunities is a common goal of both countries, he said.
He highlighted that beside their current cooperation, Turkey and Slovenia can generate opportunities in third countries.
Also speaking at the forum, Mehmet Muharrem Kasapoglu, Turkey's youth and sports minister, stressed that cutting transit quotas between Turkey and Slovenia to reasonable levels would help galvanize bilateral trade.
"Undoubtedly, this momentum will add value to both our bilateral relations and Turkey's trade with the EU," he added.
Turkey offers opportunities in making inroads in the automotive and health tourism sectors in various regions, the head of the Foreign Economic Relations Board of Turkey (DEIK) said Tuesday.
For over a year, Turkey has been doing "serious work" with Germany, France, Japan, and Hungary towards cooperation in other countries thanks to the country's quality work, speed, and competitiveness, Nail Olpak told the Turkey-Slovenia Business Forum in Istanbul.
"I would like to remind our Slovenian friends that the perception of our country in those markets is important," he underlined.
Fatih Canpolat, the head of DEIK's Turkey-Slovenia Business Council, stressed that in 2019 the trade volume between the two countries had risen 20% on an annual basis to top the $2 billion mark.
Canpolat pointed to the "significant potential" in several sectors of both sides, such as infrastructure, construction, tourism, automobiles, logistics, IT, biotechnology, medicine, and health tourism.
The close ties Slovenia, an EU member since 20014, enjoys with the union is an advantage for Turkish companies seeking to enter European markets, Canpolat added.
Zeljko Puljic, Canpolat's Slovenian counterpart, also said that the existing cooperation between the two countries can be improved.
Slovenia is currently focused especially on infrastructure investments, and there are opportunities for running joint business in the country, he said.
TURKEY, LITHUANIA SET $1B TRADE VOLUME TARGET
Turkish trade minister says bilateral trade volume should be doubled
VILNIUS, Lithuanian (AA) - Turkey and Lithuania are looking to double the bilateral trade volume from its current level, Turkey's trade minister said Friday.
"Our trade volume with Lithuania is around $562 million, which is very low. We aim to increase it to $1 billion as a first stage," Ruhsar Pekcan, currently visiting Lithuania, told the Turkey-Lithuania Business Forum in the capital Vilnius.
Pointing to Lithuania's success in innovation, technology, FinTech, communications, and information technology, Pekcan said the ministry backs the cooperation of firms from both sides.
She also highlighted the potential of health tourism.
Lithuanian Energy Minister Zygimantas Vaiciunas said the country is a springboard for Turkish companies to reach Baltic states.
Turkey can be a gateway to Asian countries for Lithuania, Vaiciunas said, adding: "Actually, we want to close this gap."
Nail Olpak, the head of Turkey's Foreign Economic Relations Board (DEIK), stressed that Turkish companies use Lithuania's investments in R&D infrastructure and information technology valleys.
AFGHANISTAN BUSINESS AND INVESTMENT MEETING
Turkey's Foreign Economic Relations Board (DEIK) on Friday said it has signed a cooperation deal on information sharing with Afghanistan's National Procurement Authority.
The agreement was signed as part of a business meeting organized by DEIK's Turkey-Afghanistan Business Council, it said on Friday.
Business representatives and officials discussed economic relations, investment and cooperation opportunities between the two countries during the meeting.
Nail Olpak, the head of the DEIK, said the annual bilateral trade volume between Turkey and Afghanistan is around $150 million, adding that it should be increased.
There are significant opportunities in construction, energy and security fields between the two countries, Olpak noted.
"I invite Turkish businesspeople to invest in these sectors," he said.
Accessing information and security are two critical points for doing business and increasing relations with Afghanistan, he recalled.
"I believe that we can create a fertile environment for our businesspeople," the head of the DEIK added.
Mohammad Humayon Qayoumi, Afghanistan's acting finance minister, said two countries aim to make cooperation in political, investment, infrastructure, and trade areas.
Qayoumi reminded that Afghanistan is located in the middle of the historical trade line of Silk Road and it has a key role to integrate Central and South Asian economies.
"We are grateful for Turkey's extraordinary support to peaceful, prosperous and stabilized Afghanistan," he added.
ABOUT OPERATION PEACE SPRING
DEAR OUR DISTINGUISHED COUNTERPART,
On behalf of Foreign Economic Relations Board of Turkey, this letter addresses to your kind attention about the explanation of Turkey's most recent peace operation in Northern Syria.
Turkey is firmly committed to fighting against terrorism originating from Syria. We are a committed member of the Global Coalition against DEASH and Turkey is the only country to put a chest-to-chest combat against DEASH with boots on the ground. Turkey has already conducted two major counter-terrorism operations (Euphrates Shield and Olive Branch) in northwest Syria. Threat of terrorism originating from Syria and targeting our borders is not limited to DEASH. During the last two years, especially from the east of River Euphrates, we have been exposed to more than hundred cases of attacks or hostile acts by PYD/YPG, the Syrian offshoot of PKK which is designated as a terrorist organization by the EU and NATO. PYD/YPG has perpetrated terrorist attacks also within Syria and against Syrians and Northwest Syria is a particular case in point. More than 200 cases of attacks and killing or wounding of scores of civilians took place while PYD/YPG-affiliated elements assumed responsibility in these cases without hesitation. Turkey's expectations and sensitivities regarding the PYD/YPG threat were repeatedly shared with our Allies. It is obvious that, Turkey could no longer tolerate the presence of terrorists at our borders. Turkey is compelled to take our destiny into our hands. That is why "Operation Peace Spring"is launched.
The main objectives of this operation will be to ensure Turkey's border security, neutralize terrorists in the region and save Syrians from the oppression and cruelty of these terrorists. The operation will be carried out on the basis of international law, in accordance with the right of self-defense as enshrined in Article 51 of the UN Charter and the relevant Security Council resolutions. Turkey notified UN Secretary General, President of the UN Security Council and NATO Secretary General of the start of this operation and intends to continue the operation until all terrorists have been wiped out of the region, our border security has been ensured, and local Syrians have been liberated from the tyranny of PYD/YPG as well as the DEASH threat. The operation also aims to facilitate safe and voluntary returns of displaced Syrians since Turkey has no plans whatsoever to modify the demographic structure in the operation area. It is the other way around the operation will give a chance to at least one million displaced Syrians, including Kurds, Arabs, and Christians alike, to return to their ancestors' lands after having been subject to ethnic cleansing by PYD/YPG.
Turkey's counter-terrorism efforts in Syria will contribute to the territorial integrity and unity of Syria by disrupting separatist agendas. The issue of foreign terrorist fighters can be effectively dealt with only by collective action by the international community. Protection of civilians and civilian infrastructure is our top priority and since the beginning, Turkey has always been at the forefront of the efforts to combat DEASH and all other radical actors.
As a final conclusion, on behalf of Foreign Economic Relations Board of Turkey, we would like to have your kind attention towards the manipulated disinformation regarding the current operation on the ground causes only the escalation of polarization and radicalization of all actors in Syria. When you follow the current situation from different communication channels, we kindly request you to consider official statements from the Turkish government. Turkey is going to make sure that the current operation will have no harmful impact on Turkey's rebalancing process of its economy and its economic development. We also believe that this operation will bring peace, stability and prosperity to the region and to all over the world.
Kind regards,
Nail OLPAK
President
TURKEY - PARAGUAY BUSINESS FORUM
Turkey and Paraguay are committed to support business between the two countries, the Turkish trade minister said on Tuesday.
"Trade and economic relations between Turkey and Paraguay are open to development and have a great potential," said Ruhsar Pekcan, speaking at the Turkey- Paraguay Business Forum hosted by Foreign Economic Relations Board of Turkey (DEIK) in Istanbul.
"The current trade volume between the two countries certainly does not reflect their potential," said Pekcan adding the friendship between the two countries should be consolidated through increasing mutual economic and trade relations.
"We will work together with our business world on the diversification of our products and trade. We, as two states, are determined to support the business world," she said.
"Paraguay is in the center of Latin America. It is right in the middle of our target markets. We have similar cultures. Although geographically distant, this cultural similarity brings us closer to each other," said Pekcan.
"I have no doubt that we will reflect our cultural partnerships onto the business sphere," she added.
She also emphasized that the Turkish contractors have come forward with their worldwide timely delivery of high quality, and Turkish companies have undertaken only 25 projects in Latin America worth $975 million.
"We have no such experience in Paraguay yet. I hope that Turkish and Paraguayan companies can work together in projects, and even third countries from Latin America can work with us."
Paraguay's Industry and Trade Minister Liz Cramer said that there are opportunities for investors in many areas, particularly in the sectors of tourism, energy, agriculture and meat in Paraguay.
"The meat of naturally-fed animals is ready to enter the Turkish markets. We have presented all our documentations. The process continues," Cramer added.
We came to Turkey to say that they have an ally in South American Common Market (Mercosur), she said.
"There is also the possibility for exports to other Latin American markets through Paraguay. You can present your various products there. Perhaps Paraguay can also be seen as a transit platform. We hope that in the coming years we can see Turkey as a direct investor."
Nail Olpak, the president of DEIK, also said that Turkish business world's goal is to increase trade, business partnerships and mutual investments.
Turkish exports to the Paraguay totaled $40 million, while imports from the Latin American country were $107 million last year, Olpak said, adding that their top priority request is to sign agreements as soon as possible to remove barriers to trade.
"In January 2018, the Mutual Promotion and Protection of Investments Agreement was prepared to establish appropriate legal infrastructure for the development of investment relations between Turkey and Paraguay. We expect return to this step," Olpak said.
"We aim to establish our Business Council of Turkey and Paraguay as soon as possible," he added.
TURKEY-ROMANIA BUSINESS AND INVESTMENT FORUM
urkey and Romania signed a protocol for the Joint Economic and Trade Committee (JETCO), Turkish trade minister said on Friday.
The JETCO aims to improve trade relations between the two countries, Ruhsar Pekcan said during Turkey-Romania Business and Investment Forum, organized by Turkey's Foreign Economic Relations Board (DEIK) in Istanbul.
"We added topics to JETCO protocol for investments, bilateral relations, trade, industrial cooperation, collaboration with third countries, relations with the EU, technology, private sector's cooperation, tourism and energy," Pekcan elaborated.
She said Romania is a door for Turkey to open onto the Balkans and Europe, while Turkey is also door for Romania to open onto the Middle East, Africa and the Caucasus.
Nail Olpak, the president of DEIK, said updating the Customs Union is one of the most important priorities of Turkish business circle.
"We expect support from Romania in this period," he underlined.
The protocol was signed by Pekcan and Stefan Radu Oprea, Romania's Business Environment, Trade and Entrepreneurship Minister.
TURKISH PRESIDENT ERDOGAN CALLS ON AFRICA TO DO BUSINESS IN LOCAL CURRENCY
TURKISH PRESIDENT ERDOGAN CALLS ON AFRICA TO DO BUSINESS IN LOCAL CURRENCY
In line with Turkey's African opening policy to improve Turkey's commercial and investment relations with African countries and the Continent as a whole; Turkey-Africa II. Economic and Business Forum, hosted by the Ministry of Trade and organized by Foreign Economic Relations Board of Turkey (DEiK) in collaboration with the African Union (AU), began in Istanbul on October 10, 2018 with the honoring of T.R. President H.E. Recep Tayyip Erdogan.
President of Turkey H.E. Recep Tayyip Erdogan, President of Ethiopia H.E. Dr. Mulatu Teshome, Prime Minister of the Republic of Rwanda H.E. Edouard Ngirente, T.R. Minister of Trade H.E. Ruhsar Pekcan, Commissioner for Economic Affairs of the African Union Commission H.E. Victor Harison, DEiK President Mr. Nail Olpak and Pan-African Chamber of Commerce Vice-President Mr. Melak Ezezew delivered their remarks at the opening of Turkey-Africa II. Economy and Business Forum, where the political leaders and senior decision-makers in Africa and important portfolio managers and business people come together.
Making a speech at Turkey-Africa II. Economic and Business Forum, President Erdogan highlighted the importance Turkey attaches to its cooperation with Africa, and said: "We want to improve our relations, built on mutual respect, in all areas on the basis of win-win and equal partnership. Since we took office, we have been working in this spirit in order to strengthen our cooperation with the whole of Africa without any discrimination, especially in the period of my Prime Ministry in 2005, we have declared the "African Year". Since then, the tempo has increased. When we took office, we had 12 embassies in Africa and today we have 41 embassies. This number will continue to increase".
"Turkey's Africa initiative has found broad echo and been highly appreciated across the continent. The friendly hand our country extended has never been left unreciprocated by African countries. As we have strengthened our diplomatic presence across the continent, African countries have also increased the number of their diplomatic missions in Turkey from 10 to 33. Our African friends have lent strong support to the rightful struggle Turkey has been putting up at such international platforms as the United Nations and the Organization of Islamic Cooperation for the establishment of global peace and justice," President Erdogan stated.
Also highlighting the struggle being waged for economic independence, President Erdoğan said: "I am telling all of my African friends, brothers and sisters, let's do business with local currencies, national currencies. Let's save our countries from the pressure of foreign currencies and exchange rates. We have to take this step. This has become an issue high on the agenda for us due to the speculative attacks we have sustained in the last couple of weeks. We have covered a distance of certain extent in the negotiations we have been holding for awhile now with other countries like Russia, China, Iran, etc. I am confident that we will achieve much bigger successes on this issue as the process continues. We stand ready to develop trade in local currencies not only with our main trade partners, but with all countries including our African friends."
The Ethiopian President Dr. Mulatu Teshome expressed that he believes Turkey and Africa will build a sustainable future together and said; "Mr. President Recep Tayyip Erdogan made a big breakthrough in terms of our economic partnership. After Turkey's Africa expansion policy, these two regions had the opportunity to get better acquainted with each other. Africa's strategy for attracting foreign direct investment objectives coincided with Turkey's goals.
Turkey is now one of the 3 largest investors in Ethiopia and there is a 2.5 billion dollar Turkish investment in the region.The Turkish business community employs 150 companies and 30 thousand people. While Turkey has 440 million dollars import to Ethiopia, also Ethiopia has an import of 36 million dollars to Turkey. As Ethiopia, we invite Turkish business people to our country for new investments with our natural energy resources, more than 100 million workforce, strong macro economy and stable management. Fortunately, we learned that Turkish business people wanted to establish industrial zones in Ethiopia. Ethiopia, will always be next to Turkey on this issue and will provide its utmost support. Friendship and solidarity between Turkey and Africa in the coming period will continue as more powerful in accordance with the common goals".
Rwandan Prime Minister Edouard Ngirent noted that he attended on behalf of President of Rwanda and the African Union Term President Paul Kagame and said; "We have reached a $ 20.6 billion business volume, together with our strong economic ties between Turkey and Africa. We have achieved this through cooperation between public and private sectors. We appreciate the approach of Turkey's proposal for a solution to Africa's problems.We want to improve in the industry issue by developing stronger relations with Turkey for sustainable development goals. Our free trade area has a very large potential for Turkey. Together with the win-win strategy in trade, investment and especially in the fields of mining, tourism, education, agriculture, construction, infrastructure and energy, we will sign stronger partnerships".
"Our view of Africa; common earnings, development together, completing each other"
Turkish Trade Minister Ruhsar Pekcansaid; "Turkey aims to push Turkish-African relations to the next level despite global protectionist winds. Our goal is to put the Turkey-Africa relations to the top from every respect". Pekcan said that 8 credit and finance institutions participated in the event, including Turk Eximbank, Afreximbank African Development Bank, Islamic Development Bank, and World Bank. Pekcan said; "Under the leadership and vision of our Mr. President, thanks to the Africa initiative launched in 2003, Turkey-Africa economic relations are experiencing a golden age in the history. In a short period like 15 years, our exports to the African continent increased to 5 times, our imports tripled. We have exceeded $ 20 billion".
Pekcan said that; "Total contracting services on the African continent is $ 66.4 billion. But we have realized 55 billion dollars of this thanks to the African expansion for the last 15 years. Pekcan conveyed that Turkey does not look at the Africa only as a 'market' and 'natural source center' and said; "In Africa, hundreds of thousands of people are provided with job opportunities in Turkish companies. Today, the amount of Turkish investments in Africa reached $ 6.2 billion. Eximbank provides financing to projects for Africa's development. As Turkey, our view to Africa is common earnings, development together, completing each other".
DEiK President Nail Olpak said that Turkish business people can contribute to the construction of Africa's future and invest in a sustainable future together. Olpak emphasized that it is not fair that Africa, which has the 30 percent of the world's mainland, 16 percent of the world's population and be a homeland for 54 countries, only receives the 2,5 percent of the GDP produced by the World and continued his speech as; "We should be ready together fort his new World in which its rules are reshaping. Not only should we be ready, we should work hard to have our share in the written rules, we need more cooperation and solidarity".
Commissioner for Economic Affairs of the African Union Commission Victor Harisonsaid that since the first forum held in 2016, Turkey and Africa's economic and trade sectors showed a great improvement and said; "In the framework of African initiative of win-win policy implemented by the Turkey since 2003, the trade volume with Africa increased 4 times between the years 2003-2018 and reached 20.6 billion dollars. This figure has been growing with continuous investments and public-private partnerships. Africa will grow by 4.1 percent this year, exceeding the global average, and its population will reach 2.5 billion in 2050. Africa, which is the only body including 54 countries, will be a global player with its demographic structure and renewable energy resources. The next process will be continuing its cooperation with Turkey signed the new strategic partnership with Africa".
The Pan-African Chamber of Commerce Vice President Melaku Ezezew stated that this year, more than 3 thousand business people from more than 50 countries come together in the forum and said the following; "Congratulations to Turkey due to its cooperation with Africa based on the philosophy of win-win initiative. Turkish investments constitute 40 percent of foreign direct investments, especially in Ethiopia. There is a total of $ 2.5 billion Turkish investment in textile and construction sectors. Africa has a unique investment opportunity for Turkish companies, especially in solar energy, hydro energy and wind energy. The Turkish construction sector is also in second place with the high volume of business in the region. The public and private partnership model is strategically important in terms of sustainable investments. Turkish companies may create a Turkish Regional Industrial Area in Africa in the coming period".
October 10 Wednesday, after the opening speech on the first day of the event, The African Champions Awards Ceremony was held and the Turkish companies that market he most business in Africa and the African companies that make the most business in Turkey were awarded and bilateral meetings were held between the Minister of Commerce and the guest Ministers.
Three Cooperation Agreements Signed during the Forum
In the Forum, Memorandum of Understanding between the Ministry of Mines and Geology of the Republic of Senegal and Tosyalı Holding and Trade and Investment Cooperation Memorandum of Understanding between Republic of Turkey Ministry of Commerce and the African Union Commission and Trade and Economic Cooperation Agreement between Republic of Turkey and the Government of the Republic of Zimbabwe Government were signed.
The Forum will continue with the B2G meetings in which the countries will make their presentations and with 3 three panels with the subjects of "Textile Industry Investment Opportunities and Fashion in Africa", "Cooperation Between Africa and Turkey In The Fields of Construction, Infrastructure and " and "Integration Efforts in Africa and Opportunities for Turkish Business World"
On the second day of the Forum, a press meeting and signature ceremony will be held to announce the joint declaration by organizing a Ministerial Meeting with the topic of "Fair, Free, Sustainable Trade; Risks of Conservation for Africa". In addition, two panels on "Trade and Investment Finance in Africa" and "Tourism and Hotel Investments in Africa" panels will be held.
Press Bulletin
DEiK/Turkey-Africa Business Councils
www.turkeyafricaforum.org
NEW ERA OF 6 AGREEMENTS FOR TURKEY-BELARUS ECONOMIC RELATIONS
NEW ERA OF 6 AGREEMENTS FOR TURKEY-BELARUS ECONOMIC RELATIONS
Belarus-Turkey Business Forum, organized by DEIK within the scope of official visit of Prime Minister Binali Yıldırım to Belarus, was held on February 15, 2018 in Minsk, the capital of Belarus, with the participations of Prime Minister of the Republic of Turkey Binali Yıldırım, Prime Minister of Belarus Andrey Kobyakov the Republic of Turkey Minister of Economy Nihat Zeybekci, DEIK President Nail Olpak, Belarus Chairman of Chamber of Industry and Trade Vladimir Ulahoviç and DEIK/Turkey-Belarus Business Council President Ali Rıza Arslan.
Prime Minister Yıldırım, stating that 6 agreements involving business worlds of both countries were concluded within the framework of the visit, further said, "we have concluded agreements in the areas of protecting of investments, prevention of double taxation, standardization, combined transportation, enhancing scientific and technical cooperation". Prime Minister Binali Yıldırım, addressing the closing session of the Business Forum, mentioning that the Governments' task is to resolve the problems and hindrances encountered by the business world, further said, "We are aiming to develop our business by means of win-win principle within the relations between Belarus and Turkey. Unilateral achievements do not yield results in the future. Trade satisfying only one side shall not be auspiciousness. For instance, there is a Viking project started some time ago. This project is far from satisfying our expectations because of Ukraine. Was it established? Yes, it was. But it proceeds at a slow rate. Seaway can be developed. Hindrances and obstacles to trade growth can be further reduced. Transportation is nothing more than a tool for the trade. If we only attribute a few dollars to trade, we would do wrong to our countries". Yıldırım, stating that cooperation is feasible in various sectors, further mentioned, "We are well aware that Belarus has substantial experiences and fund of knowledge in agricultural and heavy-duty machinery. Turkey and Belarus can improve and promote those to address to third country markets".
Belarus Prime MinisterAndrey Kobyakov said that they are striving for creating a comfortable environment in Belarus for the Turkish business circles. Kobyakov, emphasizing that organizations of events between Turkish and Belarus business circles have become a tradition, stated that relations between both countries have been developed and improved dynamically in the recent years and practically cover entire areas. Kobyakov, saying that they have accomplished many projects for the purpose of realization of agreements concluded between Turkey and Belarus, further said, "our trade volume has reached to 1 billion USD in the year 2017. We consider this as a provisional accomplishment. I am confident that we shall achieve substantial successes in the future. It is a good thing for our business circles to be affiliated and merchandise between both countries, however, those are required to be evolved into investments and cooperation within the industrial area". He further mentioned that new doors are opened for 5 countries due to location and logistic infrastructure of Belarus and Turkish business people therefore are invited to make investments within the areas of machinery, automotive, chemistry, textiles and logistics in Belarus.
DEİK President Nail Olpak said that firm steps have been taken for the development and improvement of the cooperation and collaboration between Turkey and Belarus. Olpak, elucidating that the value of 46 projects undertaken by the Turkish contractors in Belarus since 1991 worth around 1 billion USD, further stated, "I would like to mention that Turkish contractors are qualified to assume new projects in the residence and infrastructure projects to be required by Belarus. It is quite important for the North-South Transportation Corridor to establish connection between Turkey and the countries located at the north and east of Belarus to be accomplished. Through this project, a hauling capacity of 300 thousand containers can be achieved and furthermore an additional hauling capacity of 1 million tons can be acquired in river transport". Olpak, stating that our mutual socio-economic history with deep roots dating back to the 14th Century inspires and encourages us for trading in many sectors, said that Turkey and Belarus are communities with common values that are well familiar with each other and well aware of the dynamics of the regional geography, further mentioned, "Each meeting between both countries held on the grounds of business world brings us even closer than ever through an approach aiming for both sides to have achievements. We are all here together for more cooperation and more economic integration in Belarus, located at the heart of power and communication lines at the centre of Europe, Asia and Russia that we have arrived to deepen our trade relations in the 26th year of our diplomatic relations".
DEIK/Turkey-Belarus Business Council President Ali Rıza Arslanelucidated that bilateral trade volume was increased by 31.6 percent comparing year 2016 and advanced to 605.4 million USD. Arslan, said, "If we are able to maintain this tempo, I believe we will manage to achieve the target set in 4-5 years". Arslan further emphasized that automotive industry, woodworking and furniture manufacturing, textiles and ready wear, machinery manufacturing, retail trading, banking and financial services, construction materials manufacturing and tourism and hospitality constitute substantial potential for Turkish enterprises in Belarus.
Turkish Maarif Foundation Chairman of the Board of Directors Distinguished Professor Dr. Birol Akgün and Municipality of Minsk UKB Director Dimitri Mikulonak concluded Overseas Outright Agreement in the Forum.
Turkey-Belarus Trade Figures (Ministry of Economy-2017)
Total Foreign Trade Volume: 605 million USD
Turkey's Exports to Belarus:422 million USD
Main export items: Fruits, vegetables, knitted textiles, components, parts and accessories for road vehicles, synthetic cords and threads.
Turkey's Imports from Belarus: 183 million USD
Main import items:Fertilizer, organic chemicals, synthetic filament bundles, wire and other goods made of iron or unalloyed steel, synthetic cords and threads, wood and forestry products.
Total Foreign Trade Balance:239 million USD in favour of Turkey.
PRESIDENT OF GAMBIA BARROW MEETS WITH THE TURKISH BUSINESS WORLD HOSTED BY DEIK
PRESIDENT OF GAMBIA BARROW MEETS WITH THE TURKISH BUSINESS WORLD HOSTED BY DEIK
DEIK Africa Business Councils proceed with high level talks. Turkey-Gambia Round Table Meeting, organized for the purpose of developing economic and trade relations between Turkey and Gambia, hosted by DEIK, was held on February 12, 2018 in Istanbul with the participations of President of Gambia Adama Barrow, Republic of Turkey Vice Minister of Economy Fatih Metin, DEIK President Nail Olpak, Gambian Minister of Foreign Affairs, International Cooperation and Gambians Living Overseas Ousainou Darboe, Gambian Minister of Trade, Regional Integration and Employment Dr. Isatou Touray and DEIK/Turkey-Gambia Business Council President Şaban Dinç.
President of Gambia Adama Barrow, stating his happiness and gratitude to be in Turkey in his opening speech further said, "Being in this magnificent country as the official guest of the President Recep Tayyip Erdoğan is a great honour for us." This invitation is a clear indication of the confidence of Turkey in Gambia. Turkey, since its inception, has always been a strong country as well as has a unique culture and the most importantly, in where knowledge springs. When evaluated in this respect, Turkey's support on Gambia with numerous advantages attributes is quite substantial for us. Gambia had a transition period to democracy of 22 years and was in need of the support of a great country like Turkey. By this transformation, we would like to have a new and fresh start between Turkey and Gambia. Gambia offers a reliable and safe investment environment to Turkey through its democracy, geographical location and easy-going system. Especially, aviation, energy, tourism, agriculture, healthcare sectors have great opportunities for investing in our country. When we also consider the infrastructure works to be performed in the upcoming period, we can see that Turkey shall be among the countries with substantial investment moves within these areas. On this opportunity, we would like to take further steps in the economic relations between the two countries. Barrow also said that they would like to promote and take forward the relations between Turkey and Gambia and this is the correct moment to invest in Gambia. Barrow further stated that Gambia is a country with easy access to other African countries.
Free Trade Agreement between both countries shall be discussed on February 22-23
Vice Minister of Economy Fatih Metinsaid, "We are glad to convene with the President Adama Barrow of friendly and brother country Gambia". Metin, highlighting that the cooperation shall further be increased by the talks between the two countries, further said that there are opportunities to develop and improve the bilateral trade volume between Turkey-Gambia. Metin, stating that the current trade volume is far from being the indicator of the potential, mentioned that the endeavours shall be continued for the improvement of the trade volume and the balanced increase in the favour of Gambia. Metin, stating that Turkey has support regarding the investments to be done in Gambia, elucidated that Turkish construction sector a volume of business worth of 350 billion USD worldwide and Turkish contractors shall be able to provide support and assistance in Gambia's reconstruction and infrastructure areas.
Metin, emphasizing that the legal infrastructure for the development of trade has already been ensured, relayed the information that 'Agreement for Reciprocal Protection of Investments' and 'Prevention of Double Taxation' between Turkey and Gambia have come into effect. Metin also expressed that the Free Trade Agreement between Turkey and Gambia shall be discussed and negotiated within the scope of the Joint Economic Commission Meeting to be held in Turkey-
ECOWAS Economy and Business Forum to be organized on February 22-23. Metin, stating that Turkey is ready for cooperation with Gambia in every aspect, further said that there are cooperation opportunities in the sectors of agriculture, tourism, energy, education, healthcare and others.
Turkey's experience shall be practiced upon in energy and infrastructure investments
DEİK President Olpaksaid, "Gambia has a renowned proverb, saying 'Giant Bombax tree grows from tiny seeds.' I am sure, every seed we sow shall turn into giant trees. Our investments and trade steps taken shall evolve into great work of arts, grand projects and lead to increase in joint prosperity and welfare through our win-win approach.'" Olpak, elucidating that the number of our Embassies in Africa has reached to 42 and DEIK proceeds with its activities and operations in accordance with the priorities of the Turkish government and under the coordination of the Ministry of Economy, further mentioned, "the number of our Business Councils in Africa has reached to 42 in line with these endeavours. At this rate and the way things stand; the number of our Business Councils grow even further. Turkey-Gambia Business Council is one of those."
Olpak, stating that the seeds sown proceed to transform into giant trees, said, "On one side, Turkish contractors of our shall take steps in the direction of all sorts of infrastructure investments and on the other side, key players of Turkish energy sector shall ensure the support required for the power generation and distribution. A total of 143 Business Councils of ours as 136 being country-based and 7 being sectoral and special-purpose and we as DEIK family together shall sow new seeds and while they transform into giant trees, we shall endeavour for our country's and your achievements and accomplishments."
Turkey-ECOWAS Economy and Business Forum shall host 15 West African Ministers on February 22-23 in Istanbul
DEİK PresidentNail Olpak, stating that they expect an intense participation to Turkey-ECOWAS Economy and Business Forum of which Gambia is among the members, further said, "as business world, on the occasion of the Forum to be held 10 days later, we are waiting for the day we embrace the entire West Africa and therefore proceeding with our preparations with full pace."
DEIK/Turkey-Gambia Business Council President Şaban Dinçsaid, "As the Business Council, our top priority objectives include increasing the current bilateral trade volume of 40 million USD to over 100 million USD in the short-term." Dinç, stating that initiatives of DEIK/Turkey-Gambia Business Council regarding ensuring Turkish Eximbank loan support for the investment projects in Gambia are currently proceeding with, further mentioned, "initiation of Turkish Airlines direct flights to Banjul is among our priority objectives. The relations between Turkey and Gambia expedited with the visit of Honourable President Barrow is now on even advanced levels."
Turkey-Gambia Trade Figures (Ministry of Economy-2017)
Total Foreign Trade Volume: 38 million USD
Turkey's exports to Gambia: 38 million USD
Main export items: Wheat flour, rods made of iron and unalloyed steel, pasta, mineral or chemical fertilizers containing two or three of azote, phosphor, potassium, bread, paste, cake, petroleum lubricants, water.
Turkey's imports from Gambia: 3 thousand USD
Main import items: Beryllium, chromium, electrical transformers, synthetic polymers, charcoal, iron or steel screws.
Foreign Trade Balance: 38 million USD
ELECTIONS WERE HELD IN THE 142 BUSINESS COUNCILS OF DEİK
ELECTIONS WERE HELD IN THE 142 BUSINESS COUNCILS OF DEİK
DEİK Business Councils' Ordinary General Assembly, which has carried out its activities in 6 regions in the foreign economic relations of the Turkish business world for 32 years, 136 of which are country based, 7 of which are sectoral and special purpose and 143 business councils, was held in Istanbul on January 11, 2018 with the participation of Minister of Economy Nihat Zeybekci. Within the scope of the DEİK Business Councils Ordinary General Assembly which is held every 2 years, 66 of the 142 Business Councils' President and its administrations elected and 1120 representatives participated in the elections.
DEİK President Nail Olpak who spoke at the closing speech of the General Assembly of the Business Councils, stated that DEİK has become important platform in the business world and received its strength from the Business Councils and its members. Olpak said that the elections held in the Presidents and Executive Boards of the 142 Business Council and reminded that the expectations from the Business Councils in the coming period will be based on measurable performance.The DEİK President Olpak emphasized that the number of DEİK members is targeted to be increased to 3,000 and then to 5,000 members. Olpak also announced that the transition from region-based membership to country-based membership is complete. Olpak said that "Our goal is that the Executive Boards of Business Councils are made up of people who are in a rational business relationship with that council. Therefore, we have started the country-based structuring." Olpak continued his words: "Each Business Council will determine its own dues and budget and will use its own budget for its own purposes. The Business Councils, which do not have enough members, will be taken to common groups. Our aim is not to have any ungrouped Business Council. "
Minister of Economy Nihat Zeybekci, who addressed representatives of business circles during the closing session of the DEIK Business Councils General Assembly, reminded that the change in the DEİK was made in order to strengthen the link between the private sector and the foreign policies of the state.
Zeybekci reminds that economic interests depend on changing external relations in the world. He also stated that we have Embassies at critical points in the world and emphasized that the number of Business Councils is equalized. Zeybekci stated that DEİK should be positioned as an ambassador in every country.
Economy Minister Zeybekci, which calls for each member of the Foreign Economic Relations Board to undertake the task of the embassy of Turkey abroad, stated that The President, the Prime Minister and the Ministers will attend the meetings of the Board of Directors of DEİK in the new period. Zeybekci explained that the first meeting will be held with the Prime Minister and the second meeting will be held with the President. He stressed that exports are being worked out to exceed $ 170 billion.
Zeybekci stating that all kinds of requests for foreign trade and exports were submitted to the Government so far. The Economy Minister Zeybekci stated that all kinds of support will be maintained and said that it was announced that a target of US $ 50 billion was set for Eximbank loans.
BUSINESS REPRESENTATIVES OF TURKEY AND DJIBOUTI GATHERED IN ANKARA BY DEİK
Turkey-Djibouti Roundtable Meeting hosted by Foreign Economic Relations Board (DEİK) was held in Ankara on December 20, 2017 with the participation of Minister of Economy and Finance in-charge of Industry and Planning of Republic of Djibouti İlyas Moussa Dawaleh, Deputy Finance Minister of Republic of Turkey Dr. Cengiz Yavilioğlu, DEİK President Nail Olpak and DEİK/Turkey-Djibouti Business Council Chairperson Volkan Kazova. More than 50 business world representatives attended the meeting.
Minister of Economy and Finance in-charge of Industry and Planning of Republic of Djibouti İlyas Moussa Dawaleh read the speech of President Djibouti Ismail Omar Guelleh, who was unable to attend due to the weather conditions: "You organized such a nice meeting. I am very happy that this meeting has been held. This meeting is also a part of the business opportunities we want to develop with the Republic of Djibouti.We want to grow and develop together. Both our business world and our governments have had many contacts. Different economic actors have the opportunity to come together in Turkey and Djibouti. Our trading volume does not include figures from free zones. Of course we can overcome trade volume and do better. We want to build a more forward-looking, sustainable, productive and promising relationship within the two countries. It is our ultimate motivation to work together, to do more. We aim to win-win partnership. Business opportunities offer a natural possibility for you. We offer modern infrastructure and a reliable legal framework. It creates a solid environment for the ground we want to reach in the future. We need to improve our business environment even further and we must create an environment in which we can struggle with international competitiveness and the challenges we face. In Djibouti, there are investments that attract the attention of different private sectors. There are legal frameworks like the Reciprocal Promotion and Protection of InvestmentsAgreementor the Double Taxation Prevention Agreements we plan to sign with Turkey.There is a Special Economic Zone established for Turkish investors. It is possible to reach different countries where both countries are parties through preferred agreements."
Deputy Finance Minister of Republic of Turkey Dr. Cengiz Yavilioğlu stated that Djibouti, which constitutes the importance of Turkey's strategic vision and opening up for Africa, is a country that offers many opportunities for investors. Yavilioğlu indicated that Djibouti's trade volume with Turkey in the first ten months of 2017 increased compared with 2016. But this increase does not reflect the potential of the two countries when they are considered to be at the centre of international trade routes. Yavilioğlu who underlined a balanced increase in trade volume between the two countries will continue to be one of the priorities of the bilateral economic agenda, said that infrastructure investments, contracting services, energy, agriculture, livestock and health sectors have become the foreground as potential areas of cooperation between the two countries. Yavilioğlu who stated that they are thankful for Special Economic Zone which has allocated to Turkey, continued his words as follows: "We are continuing our efforts for the Special Economic Zone to be operational as soon as possible.The additional steps to be taken by the Djibouti authorities to promote Turkish investments will be welcomed. We think that the investments will have a significant contribution to the welfare level of Djibouti. As our Ministry, we also attach importance to our relations with Djibouti because our Minister of Finance Mr. Naci Ağbal is the Co-Chairperson of Turkey-Djibouti Joint Economic Commission."
DEİK President Nail Olpak said that Djibouti has a 400-year common history with Turkey. Olpak who indicated that Africa's potential is indisputable, said that this potential does not mean that Africa has only an aspect of natural resources and the unilateral acquisition of these resources. Olpak stated that "When we look at Djibouti from an economic point of view, we can see that it is possible to target a 150 million market with Ethiopia, South Sudan and Somalia, which are the closest to this country, which is in a strategic position. As for today, we see that bilateral trade volume reached 84 million US Dollar in the first 10 months of 2017. We will strive to raise this volume to 150 million US Dollars in the first term and 300-500 million US Dollars in medium and long term.
DEİK President who indicated that we are ready to take any steps to accelerate partnerships and collaborations in areas where the Turkish business environment has an intensive experience such as; energy production from geothermal resources, contracting projects for the elimination of public housing, hospital operation, airport construction projects, etc., continued his word as follows: "Of course, I would like to remind that even in limited areas, our agricultural and tourism potentials and what can be done especially in the field of health tourism. Turkey's average level of economic growth was 5.7 percent in the last 15 years. But it in the third quarter of this year the record renewed by 11.1 percent. We want Djibouti to grow up with us."
Following the opening speeches, the meeting continued with introductions of business representatives.
Turkey-Djibouti Trade Numbers (Ministry of Economy- 2016)
Trade volume: US $ 78 Million
Turkey's exports to Mauritania:US $ 77,9 Million
Major products that exported:Pasta, iron-steel bars, sunflower oil, wheat flour, medicine.
Turkey's import from Djibouti:US $ 149 Thousand
The main products that imported: Printing, writing, drawing and other inks, ferro alloys, acid.
Trade balance: US $ 77 Million.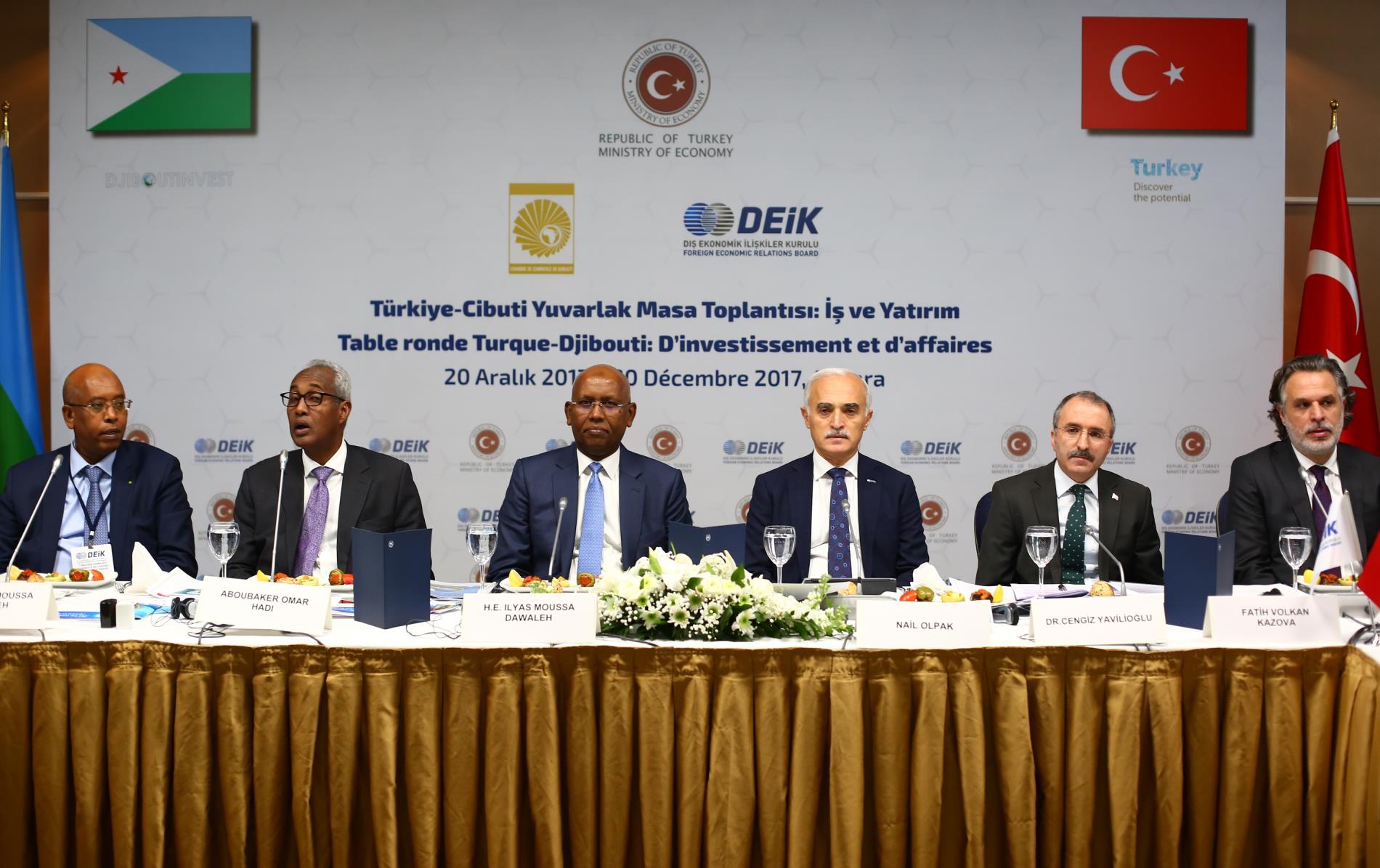 NEW PERIOD IN DEİK COOPERATION WITH SAUDI ARABIA
NEW PERIOD IN DEİK COOPERATION WITH SAUDI ARABIA
Turkey-Saudi Arabia Business and Investment Forum hosted by DEİK / Turkey-Saudi Arabia Business Council was held in Istanbul on November 22, 2017 with the participation of Minister of Economy of Turkey Nihat Zeybekci, Minister of Trade and Investment of the Kingdom of Saudi Arabia Majid Abdullah Alkasabi, DEİK President Nail Olpak and Vice President of Saudi Arabia-Turkey Business Council Ziyad Farisi.
Nihat Zeybekci emphasized to the size of the friendship of the two countries in his speech during the closing session of the Forum. Zeybekci stated that "Let's look at the possibilities that Saudi Arabia and Turkey both have in the world and in the Islamic geography. For Saudi Arabia, which has undergone sectoral-based transformations, we will talk a lot different things 10 years later. We will build cooperation together in petrochemical, construction, tourism, logistics, and agriculture fields together. Zeybekci highlighted the financial and investment opportunities of Turkey, the fastest growing country in Europe, and emphasized the position of Saudi Arabia and Turkey in the Silk Road Project. Zeybekci reminded that 5-year period of electronic trade which is expected to undertake the half of world trade. Zeybekci predicted that business representatives of the two countries will evaluate the friendship and opportunities ideally.
Majid Abdullah Alkasabi, The Minister of Trade and Investment of the Kingdom of Saudi Arabia, stated that they expect the Business Councils to assume the role of a communication platform between the two governments in order to comply with the common interests of the two countries. In the upcoming months, Alkasabi stated that there will be a study which analysing opportunities, problems and obstacles. He also said that they wanted to establishan institutional mechanism.
DEİK President Nail Olpak said that with the correct and effective use of dialogue mechanisms, the problems in the region can be overcome. He also stated that the task of the business world is the development of jobs and cooperation. Olpak emphasizes that the brotherhood of Turkish-Saudi, which is based on the very old history, should be a brand in the economic relations. He also stated that they expect Turkish contractors to take part in the mega-city projects to be built in Saudi Arabia in 2018 and 2019. DEİK President Olpak emphasized the necessity of positive privilege to Turkish investors and entrepreneurs who have realized USD 18 billion project in Saudi Arabia since 1976.
DEİK President Olpak continued his words: "It is time to unite strengths of our countries, take steps to further strengthen our partnership and friendship, and discover collaborations in new sectors. We require that the visa costs and processes applied to Turkish business people to be reduced to reasonable levels. Problems regarding work permits are also overcome with mutual will."
Ziyad Farisi, Vice President of Saudi Arabia-Turkey Business Council, emphasized the importance of increasing level of the cooperation between Turkey and Saudi Arabia. According to Farisi, "The relations between us are strong. We see the deep relations that started with the efforts of President Erdoğan and our King in the field of economy. We expect mutual economic development and employment to be increased. We will have meetings about the vision of 2030, and we hope to establish real partnerships on this issue. We want to benefit from Turkey's knowledge through mutual cooperation in the private sector. Saudi Arabia-Turkey Business Council will also play a role in these cooperations.
Saudi Arabia is the world's most important oil economy and it is estimated that it will continue its oil revenues for 90 years with the reserves it has today. The Saudi Arabian economy, which is directly affected by the ups and downs of oil prices in the international markets, was adversely affected by the oil price of an average of 44 US dollars in 2016. As of 2017, the average barrel has increased to US $ 53 per barrel. The Saudi Arabian economy has recovered its economic position and has begun paying off debts and financing new projects.
Turkey-Saudi Arabia Trade Numbers (Ministry of Economy-2016)
Turkey's exports to Saudi Arabia: US $ 3,1 billion
Major products that exported: woven carpets, electric transformers, petroleum oils, construction-processed stones, parts and accessories of other furniture, tobacco.
Turkey's import from Saudi Arabia:US $ 2,5 billion
The main products that imported: polymers of propylene and other polefins, ethylene polymer, acyclic alcohols, petroleum oils, processed aluminum.
Trade volume: US $ 5 billion
Trade balance:US $ 1,3 billion